This is the very best time of year to make bruschetta. It's late summer and tomatoes are vivid and ripe, saturated with flavor. Good tomatoes are the thing that matters most when it comes to making this classic, open-faced Italian antipasto. This is such a simple preparation it means paying attention to the little details matters. Today I'm going to talk through how I make my favorite bruschetta, and include a few simple variations as well.
The Importance of Using Good Ingredients
The first rule of making great bruschetta is to use the best ingredients you can get. You're using such a short list of ingredients, it's important they're all super flavorful. Use fragrant, golden extra-virgin olive oil, vinegar that tastes good, and in-season, ripe tomatoes. We'll talk about choosing bread next, but using good bread and tomatoes and olive oil is everything here and dictates whether your results will be "pretty good", or "omg so good."
What Kind of Bread Should you Use for Bruschetta?
In short, you want a hearty bread that can stand up to grilling. Marcella Hazan says, "the name bruschetta comes from bruscare, which means "to roast over coals" the original and still the best way of toasting the bread." She calls for Italian whole wheat bread (pane integrale) sliced 1 1/2 inches thick. I usually use whatever hearty sourdough or country loaf I have on hand at the time. If you're baking homemade sourdough, by all means use that. Bruschetta is a great way to use up day(s)-old bread. Many sources will tell you 1/2-inch slices are the goal, and Marcella weighs in suggesting we use bread sliced 1 1/2-inches thick. I find that slices 1/2-inch to 3/4-inch thick hit the sweet spot where you can get a good ratio of topping to bread in each bite. 
That said, let me back up a minute and note that a lot of the bruschetta I see photos of are actually crostini – small two-bite toasts sliced from a white baguette-style bread and topped with a tomato mixture. That's not what I'm talking about today. The bruschetta I love uses hearty slabs of bread, preferably with a dense crumb. It is grilled, rubbed well with garlic (both sides!), and topped. These aren't two-bite affairs, they're more like 5-6.
As far as grilling the bread? In the A16: Food+Wine cookbook they note, "the word bruschetta, which is derived from bruciare, "to burn" implies that some charring on the bread is desirable." Assuming both sources are right about the origins of the name bruschetta, we want to grill our bread, and get a kiss of the burn you get from grilling. If you don't have access to a grill, second choice would be to use a broiler. Third option, use  a stovetop grill pan.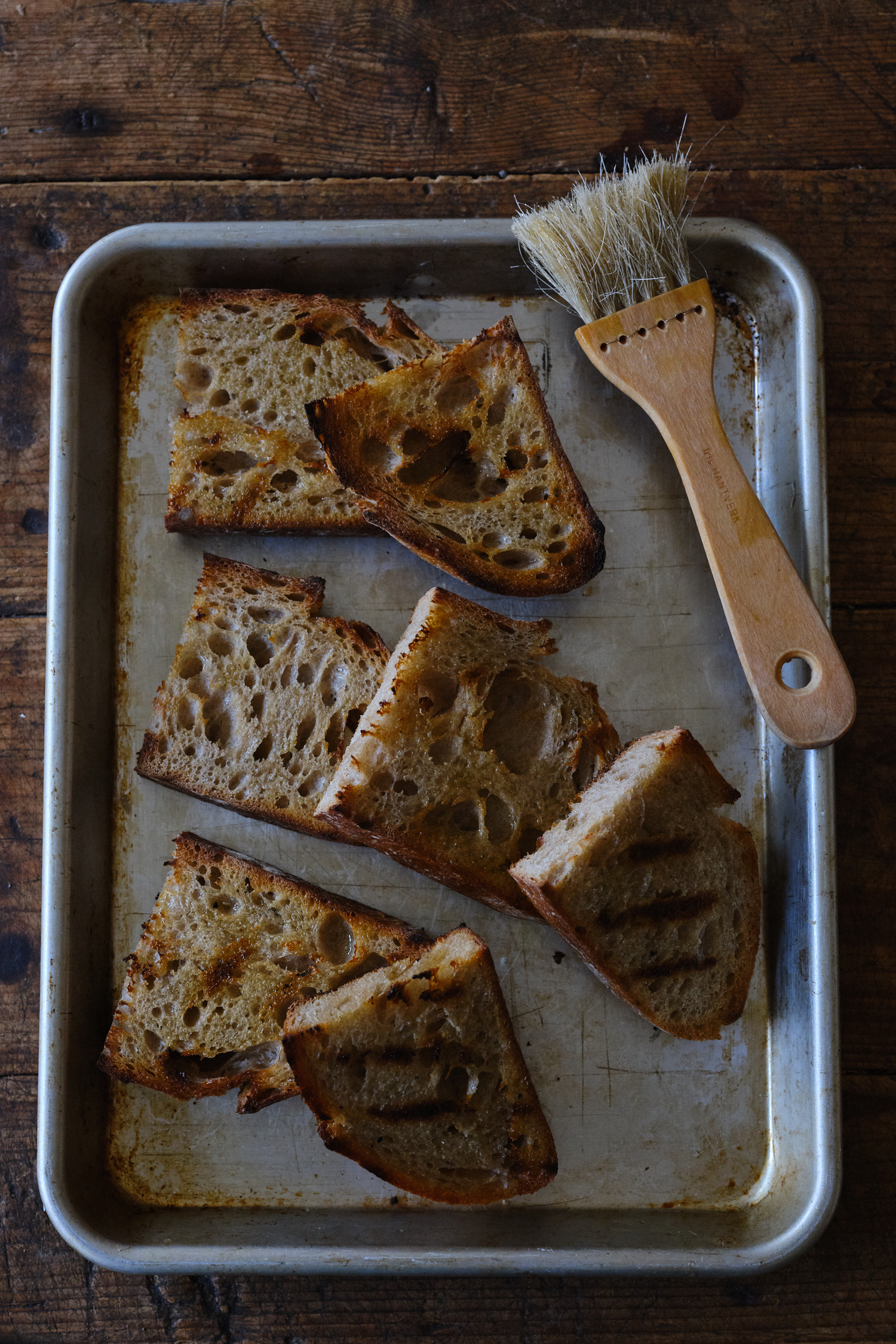 A Tip for Grilling Bread
Brush each slice with a bit of extra-virgin olive oil before grilling. I find this helps keep the bread from drying out as it is toasting. As soon as you've removed the bread from the grill, and it is cool enough to handle, rub both sides vigorously with a peeled clove of garlic. Especially if you love garlic as much as I do.
Today's Bruschetta Recipe
It's my favorite, simple, use-your-best-tomatoes version. Red tomatoes are tossed with olive oil, salt, torn basil, and a splash of vinegar. I'll include the recipe for this down below, but you can use the same approach for the other variations I list here.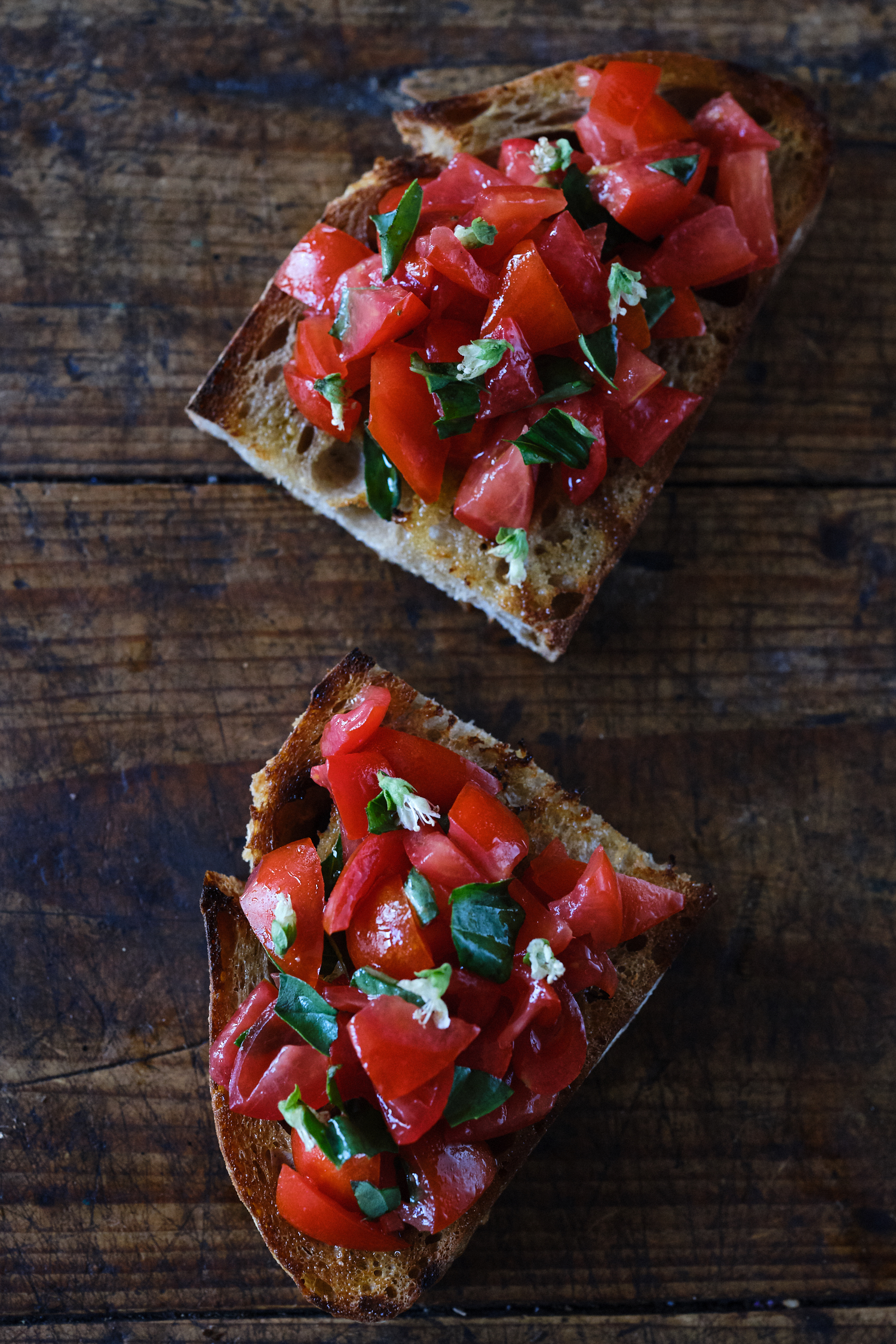 Let's Talk about the Vinegar Component
I think of the vinegar in bruschetta as a seasoning component of sorts. It brings acidity, melds with the olive oil, and brings some balance. I'll say it outright. You can't use awful vinegar and there's a lot of it out there. I made so much bruschetta in my twenties using harsh vinegars, and I'm just sad it took me a while to find the magic of good ones. Two favorite vinegars top of mind right now include Katz vinegars, and Brightland's Parasol.
If you taste your vinegar and wince hard, or if it has a musty smell, consider investing in a new bottle. In Italy you encounter bruschetta using a range of vinegars. I tend to use a favorite white wine vinegar (for this and many salads), but if you have a red wine vinegar, herb vinegar or balsamic vinegar you love, use that. I'd even argue, a squeeze of lemon juice is a better choice than a bad tasting vinegar. If you use lemon juice, add some zest while you're at it. It might not be traditional, but it will be delicious!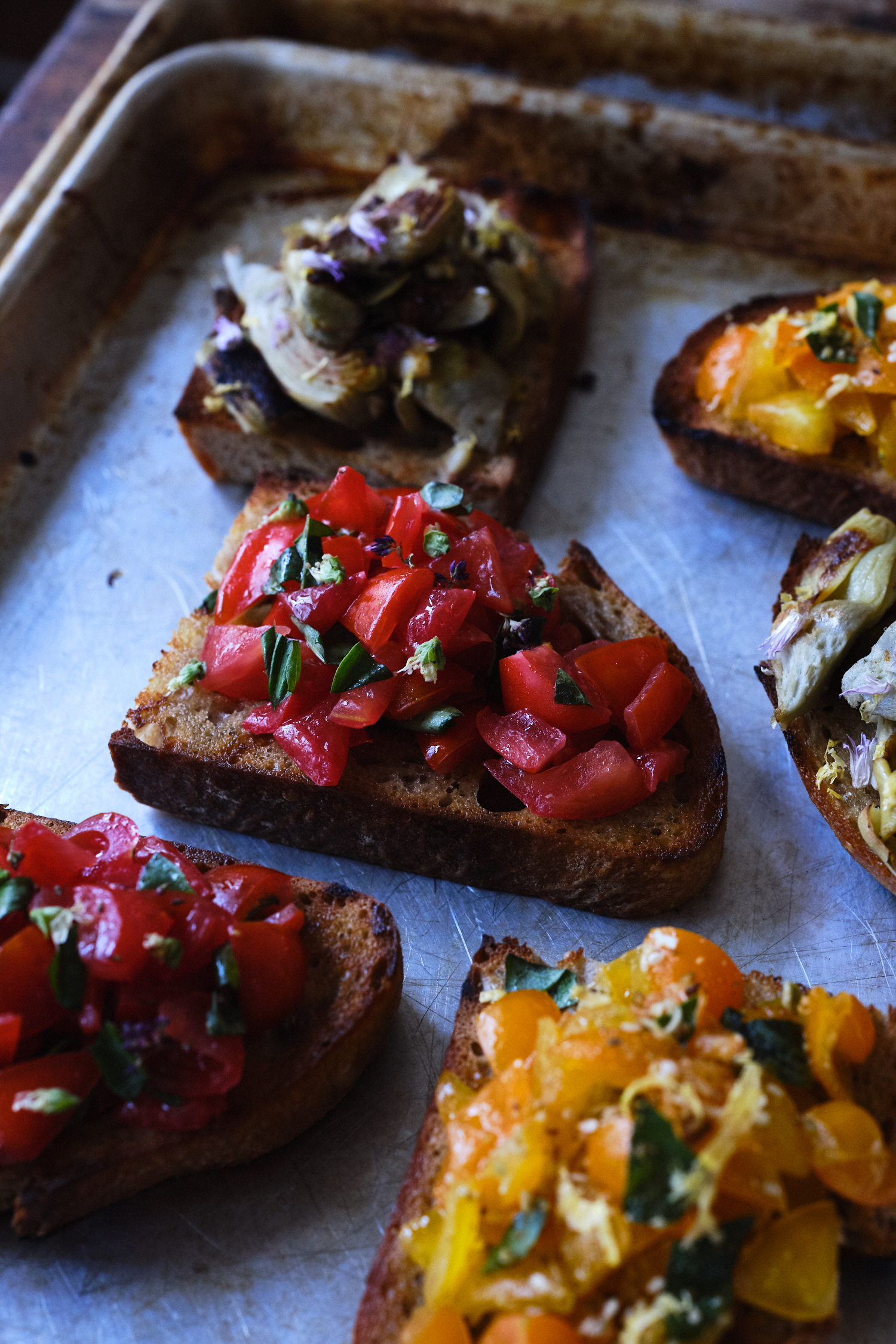 A Few Bruschetta Variations