Last week we covered Iberia's excellent '50% off all Avios redemptions' sale. There are some amazing deals to be had here (New York for 34,000 Avios + £130 of tax in Business Class, return, for example) if you are confident of travel restrictions lifting.
A reader posted a comment on this topic yesterday which came as news to me. If you do what I do for long enough you assume that you've seen every quirk out there, but there is always something coming along to surprise me.
Iberia does not allow you to book Avios tickets for infants.
By 'infant', we mean a child which has not yet had its second birthday.
Does Iberia really not let you book Avios tickets for infants?
Yes.
It is, obliquely, mentioned on this page of the Iberia website:
Can I use my Avios to buy a ticket for my baby?
You cannot use your Avios to buy a ticket for your baby. To issue a ticket for a baby associated with a reservation bought with Avios please contact your Iberia Plus service centre.
When you read the paragraph above, there is an implication that you can't buy an infant ticket online, but that the service centre can fix it for you.
It can't.
When you ring the service centre, you are told that an infant ticket will cost 10% of the CASH cost of an adult ticket.
It isn't clear exactly what fare the 10% is based on – is it the fully flexible price, or is it the cheapest cash fare available on that day?
It also isn't clear if this fare is refundable or not.
How does this compare with British Airways infant policy?
If you book an Avios flight on British Airways via British Airways Executive Club, an infant will cost you 10% of the Avios and 10% of the taxes used for the adult tickets.
You can book it online too!
The rule seems to work slightly differently for partner airlines, where you pay 10% of the Avios but a low – but more than 10% – taxes figure.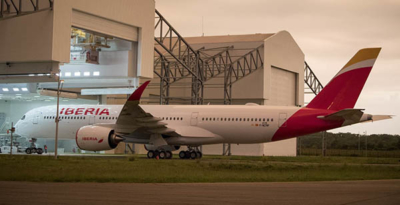 Is the Iberia deal so bad?
IF (and this is a big 'if') Iberia prices the 10% off the cheapest possible cash ticket, it isn't necessarily a bad deal.
Take New York. On a peak date, you are looking at 100,000 Avios + £130 taxes and charges for a return business class flight.
If Iberia had copied the British Airways Executive Club model of 10% Avios and 10% taxes, you would need to use 10,000 Avios + £13 for an infant. This is about £113 of value if you believe Avios are worth 1p each.
If Iberia charges you 10% of the cheapest cash ticket, and the cheapest cash ticket available on that day from Madrid to New York was £1,500 in business class, then you would pay £150 for your infant. There isn't much in it.
However, if Iberia insists on pricing off a fully flexible business class ticket to New York, you would be asked for SUBSTANTIALLY more.
Having looked at a few discussion on Flyertalk, the majority (but, oddly, not all) comments said that it is 10% of the FULLY FLEXIBLE fare. One person reported paying $1,000 for a one-way infant ticket, based on a $10,000 one-way fully-flexible business class price.
If this really is how it works, it makes Iberia Plus redemptions for Avios a poor deal for most people. It isn't a terrible deal – in most cases it will remain cheaper than the equivalent British Airways Avios redemption – but most of the saving disappears.
Weidly, British Airways WILL book you an Avios ticket on an Iberia flight
What is genuinely weird is that you CAN book an infant for Avios on Iberia flights if you make the booking via British Airways Executive Club.
The problem is that you don't want to do this, because the taxes and charges are substantially higher when booked via BAEC instead of Iberia Plus. It is also impossible to book an infant ticket via British Airways Executive Club for 10% Avios to add to adult tickets booked via Iberia Plus.
If you have any experience of adding infants to bookings made via Iberia Plus, please let us known in the comments what it cost and how the process worked.