Fans of Allbirds know that there's a lot to love about the eco-friendly, sublimely-cushy footwear brand. The Obama- and Leo-endorsed imprint employs a host of sustainable materials to create their sleek selection of flats and sneakers; including traceable and ethically sourced merino wool and a springy, sugarcane-based insole foam. Their offerings, which started out with a few low-impact sneaker styles, have been proliferating rapidly — with the recent additions of a chic ballet flat and a high-performance running sneaker (both of which our editors have tested and loved). The latest last to launch is the Piper, a street-inspired "cup sole" style in the manner of your favorite Vans or Common Projects, with all of the super-sustainable engineering and foot-hugging comfort that we've come to expect from Allbirds. Below, find my full review on the new kicks after I spent a weekend hoofing four miles in them.
First impressions…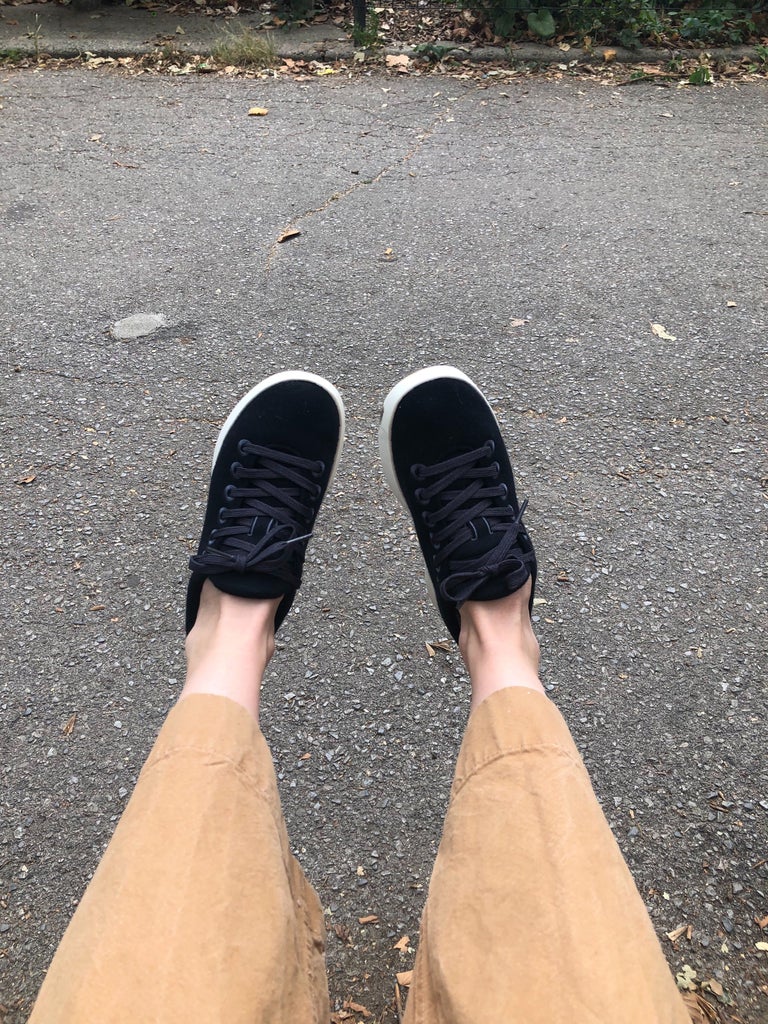 Crafted from ZQ merino wool with oversized accents designed for a throwback-style, the Pipers are offered in five different colorways (I went with limited-edition true black with a white sole). After popping them on my feet, I felt an initial snugness to the shoe that regular wearers of the brand may already be familiar with — but, I found that within a day, the constricted feeling gave way to an enveloped sensation that felt much like a friendly foot hug. While this style may offer less arch support than some of the more heavy-duty Allbirds offerings (like the workout-friendly Dasher), the "Sweetfoam" soles couldn't have felt bouncier while offering just the right amount of cushioning for taking hella steps through the concrete jungle with a baby and bags of groceries in tow. But, more on that below!
Put to the test…
For me, Saturdays and Sundays consist of near-constant errand running, and between morning coffee-and-croissant runs, numerous laps around the grocery store, multiple trips to the laundromat, and a leisurely walk to the park. (Meaning, I usually log a good four miles over the course of two days.) Despite being a lace-up style, the sneaker was pliant enough to easily slip on and off — a huge plus as I dashed in and out of our strictly shoe-free household. And you better believe I biked in the sneakers, too; pedaling two miles on well-trafficked city streets (while wearing my helmet, of course). Fully laced, the snuggly wool sheaths were the perfect fit for safe cycling with a low profile and enough tread to firmly grip the pedals. The light-swallowing black also helped to hide the bike grease that always seems to accumulate all over my clothes, no matter how careful I am. (My white shirt was not so lucky.) Weather-wise, it was a temperate weekend, but it got increasingly humid as the days wore on. I'm happy to report that my feet did not feel one bit suffocated in their new woolly homes — a testament to the airflow-friendly breathability of the magical merino wool uppers. (I also paired them with Allbird's wool-blend Trino Hiders, a perfectly-proportioned no-show sock that rarely peeks out from under shoes and stays so firmly in place that I often forget I'm wearing them.) At the end of the day, when the shoes came off, there was nary a red spot or blister — my feet were truly caressed by this soft-but-supportive style.
Final thoughts…
My takeaway? These cool kicks offered all of the sustainable style and cushy comfort that fans flock to Allbirds for in the first place — only, now, in a new silhouette that will satisfy the cup-sole crowd. As with many Allbirds releases, the current assortment of colorways is in limited supply; so if you see a hue that speaks to you, you'd best nab it before it flies off the virtual shelves.
At Refinery29, we're here to help you navigate this overwhelming world of stuff. All of our market picks are independently selected and curated by the editorial team. If you buy something we link to on our site, Refinery29 may earn commission.
Like what you see? How about some more R29 goodness, right here?
Adidas & Allbirds Are Designing A Zero-Carbon Shoe
A Deep Dive On Every Allbirds Style
Allbirds Just Launched A New Running Shoe